Enjoy Happy Healthy You! - our podcast about living a joy-filled life with balance in body, mind and spirit.
---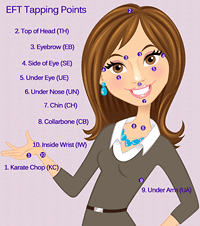 Guest: Rhonda Robinson
According to Rhonda (and many others), Tapping or Emotional Freedom Technique can help with weight loss, depression and so many other issues.
EFT: What's This Tapping Thing?
[ 14:28 ]
Download
An HTML5-compatible browser, or
Adobe Flash
is required to use the in-line audio player.
Subscribe to Podcast
Follow

Follow "Happy Healthy You!" on Facebook
Media Kit